The mission is so interesting. It is a pattern for our lives.
Not just the life that we will carry on after the name tag comes off,
the mantle removed and we move on to regular life.
It establishes a pattern for our loyalty to the Savior on through eternity.
I had a great leader, a friend, and we had a work to do. We were in a good area and every day we had the sacred privilege of putting all of our energy in helping others come unto Christ. He taught us how to get lost in the work, immerse ourselves in the scriptures, to pray with great faith and witness miracles.
The mission went through a transition phase and we were taken out of the area and on to other responsibilities. I had no idea what the next assignment would include or how I was even adequate enough to be considered.
Black ball point pen on lined paper wrote:
"There's a reason you were called to this, I will do my best to carry on the work you have done here while I still can...You are a leader."
These words meant nothing amidst the chaos of changes and goodbyes. A few miles up I-5 and I found myself in a total dream, everything I had always wanted and desired was right in front of me.
One night after planning and only a few degrees
past total exhaustion we received a phone call,
"Have you heard the news? Not to put a downer but
there was a terrible accident. Your leader..."
A dense cloud formed around me for days, I tried to work and serve but I was so hurt and I would not extend a helpful hand forward. Rather I grew very bitter and angry in my heart.
Why have I been left alone? Was my faith not strong enough? Why would you leave? It pains me to think of your body torn in pain, the suffering that you must have felt, the price that you paid, the love that you have.
In the moment I don't know if I understood the great, celestial example that was before me, possibly very similar to Peter. Though we cannot make up for the lost time we can make a resolved commitment to that leader that He has always intended us to be.
"He saith unto him the third time, Simon,

son

of Jonas, lovest thou me? Peter was grieved because he said unto him the third time, Lovest thou me? And he said unto him, Lord, thou knowest all things; thou knowest that I love thee. Jesus saith unto him, Feed my sheep."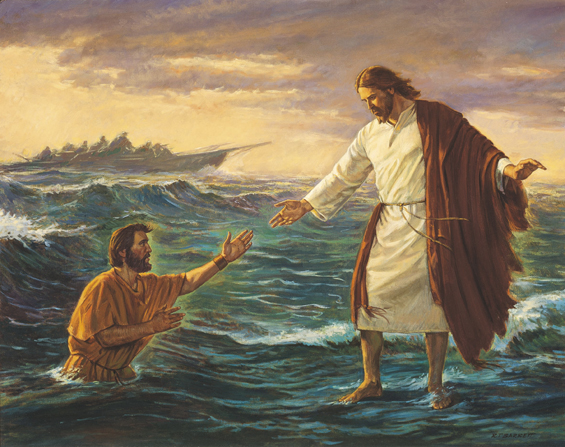 I know that this Gospel is true, many people have layed down their lives for it. Because of the example of these individuals I have made the commitment to continue to give my whole life to it.
I know our Savior and Redeemer lives, this is His work.
"With God, nothing shall be impossible" -Luke 1:37